Travel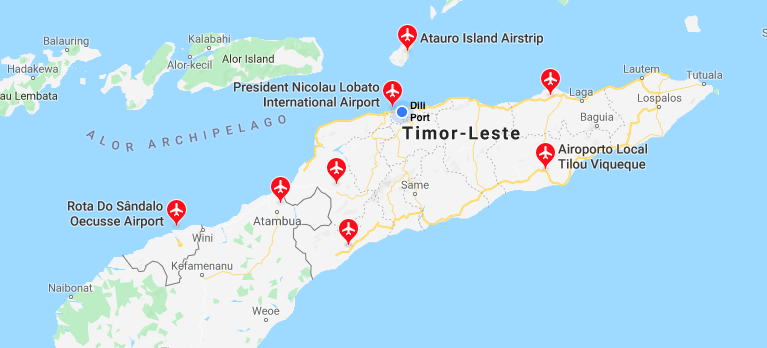 Travel by Air
Major airlines operating into Dili are Air North (Dili-Darwin-Dili approximately 1 hour), Sriwijawa Air (Dili-Bali-Dili approximately 1.5 hours), Citilink (Dili-Bali-Dili approximately 1.5 hours ) Trans Nusa operated by Air Timor (Dili-Kupang-Dili approximately 45 mins), and Royal Bhutan Air operated by Air Timor (Dili-Singapore-Dili approximately 3.5 hours). Timor-Leste is a compact, mountainous country and flying greatly reduces travel time to regional airports. It can also be cost effective with short flights between Dili and regions typically costing approx. US $60.
Travel by Road
Timor-Leste has made significant investments in its roads over the past few years particularly in the north of the country. Roads crossing the mountains are variable and some require a strong 4WD. Cars and drivers can be hired easily.
Travel by Ship
The port in Dili is the main and only international port of entry to Timor-Leste, the harbour is surrounded by a natural reef with only one clearly marked access route; the reef provides a natural protection against severe weather which can occur in the rainy season (typically Nov – Feb).
Timor-Leste Port of Dili
Timor-Leste is currently building an international standard port at Tibar 10km west of Dili at that is due for completion in 2021. A number of ferries operate between Dili and the regions.
Travel by Bus and Taxi
Public buses operate regularly between all the provincial centres. Schedules and trip times vary depending on the number of stops and road conditions. The famous Timor microlets operate around set routes in Dili and other major towns costing 25c per journey. Taxis operate in Dili and there is no shortage of them. City fares vary between $2 and $5 depending on the distance.